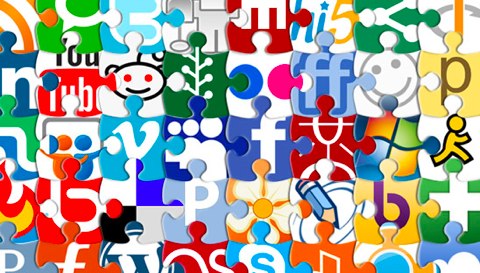 As someone who is looking to learn about social media, you're probably confused where you should start, right? With all of the resources out there, which ones should you follow and which ones should you ignore?
Over the last six years or so of leveraging social media, I've found the following sites helpful. My hope is they'll help you learn everything you need to know about social media.

Social Media Blogs
The world of social media is so young and so rapidly growing that it's difficult to keep up with. The following blogs will give you the best, most up-to-date information, tips and ideas you will need.
Social Media Examiner – Michael Stelzner runs the world's largest online social media magazine designed to help businesses master social media marketing with Facebook, Twitter, Google+ and LinkedIn.
Mashable – Social Media news blog covering cool new websites and social networks founded by Pete Cashmere from his apartment in Aberdeen, Scotland. It also covers news and developments in mobile, entertainment, online video, business, web development, technology, memes and gadgets worlds.
Soshable – This blog tries to keep up with all things social media, analyze them and then provide fresh insights into the people and structures that drive engagement.
TechCrunch – One of the best known sources for social media and technology news that also profiles startups, product launches and new websites.
Brand Savant – Professional researcher Tom Webster tries to make sense of the social web. He is the principal author of the studies Twitter Users In America, The Social Habit, The Podcast Consumer Revealed and other widely-cited studies of consumer technology usage.
TopRank – Lee Odden runs this popular multiple-author blog, offering full advice on digital marketing and public relations topics including SEO, content marketing and business blogging and marketing.
Convince & Convert – Social media evangelist Jay Baer, who's been a digital marketing consultant since 1994, provides no BS social media and marketing tips.
Social Media Explorer – Daily advice on social media marketing, conversational marketing, PR, community building and branding from a leading educator, public speaker and thinker in the world of digital marketing and social media Jason Falls.
Danny Brown – This blog explores the human side of social media and the social side of marketing. Very unique.
Brian Solis – Author of the book Engage and principal at Altimeter Group, a research-based advisory firm. Brian Solis' blog is required reading for anyone in the social media business.
David Fleet – Blog of Edleman's Vice President of Digital, must-read for anyone who is a communications professional.
Web Strategy – Jeremiah Owyang was probably one of the first on the social media scene. This Altimeter Group industry analyst has a great take on disruptive technologies.
Socialnomics – In-depth insights on the impact of social media on business and the world through short social stories, statistics and studies.
Techipedia – Tamar Weinberg is a social media enthusiast who breaks down all aspects of digital marketing.
Social Media Marketing Blog – Head of social media for Ford shares advice on the complexities of online marketing and the convergence of traditional and new media.
Social Media Books
Reading books on social media will not give you the latest information, but it's a great way to learn the foundational things from the best.
Social Media Tools
Social media is a full-time job. The following tools will help you manage, monitor and measure your social media campaigns efficiently and effectively.
Socialbakers – Monitor and measure your Facebook stats with their Engagement Analytics PRO or Engagement Builder PRO.
Social Mentions – Allows you to set up alerts for certain keywords that you get when people use that keyword on the social web.
TwazzUp – If you want a buzz-monitoring tool that focuses on Twitter, then TwazUp is your best bet. Simple, clean layout. Free.
TwitterFall – Shows you how to monitor what is being said about your brand. Not the greatest layout, but the geolocation feature is cool for local search.
Friend or Follow – Want to know who's following you and who's not? This tool is for you. Can be a little tricky when it comes to cleaning up your list though.
Instagram – Great way to treat and share your photos with your social networks. Combine this with Blurb and you can make great promotional books cheap.
Social Media Information
Blogs and books will tell you most of what you need to know about social media, but they don't cover everything.
Social Media Conferences
Attending a social media conference puts you face-to-face with the best in the business. It's really the climax of good social media efforts.
Do you know of any other good social media resources?