Ahrefs is an all-in-one SEO toolset. It's the kind of tool you absolutely need if you want more visibility into your performance on Google.
Key use cases
Audit your site and fix SEO issues that hold you back.
Do an SEO competitor analysis to fill content gaps, see your competitor's top content, and discover where and how they get backlinks.
Monitor your ranking performance on Google to know whether your SEO tactics are working.
Highlighted feature: Opportunities
A great way to start with Ahefs is the Opportunities report. It's a report consisting of the top opportunities the tool identifies after analyzing your site.
It's a bit like hiring an SEO consultant to show you where to start with search engine optimization.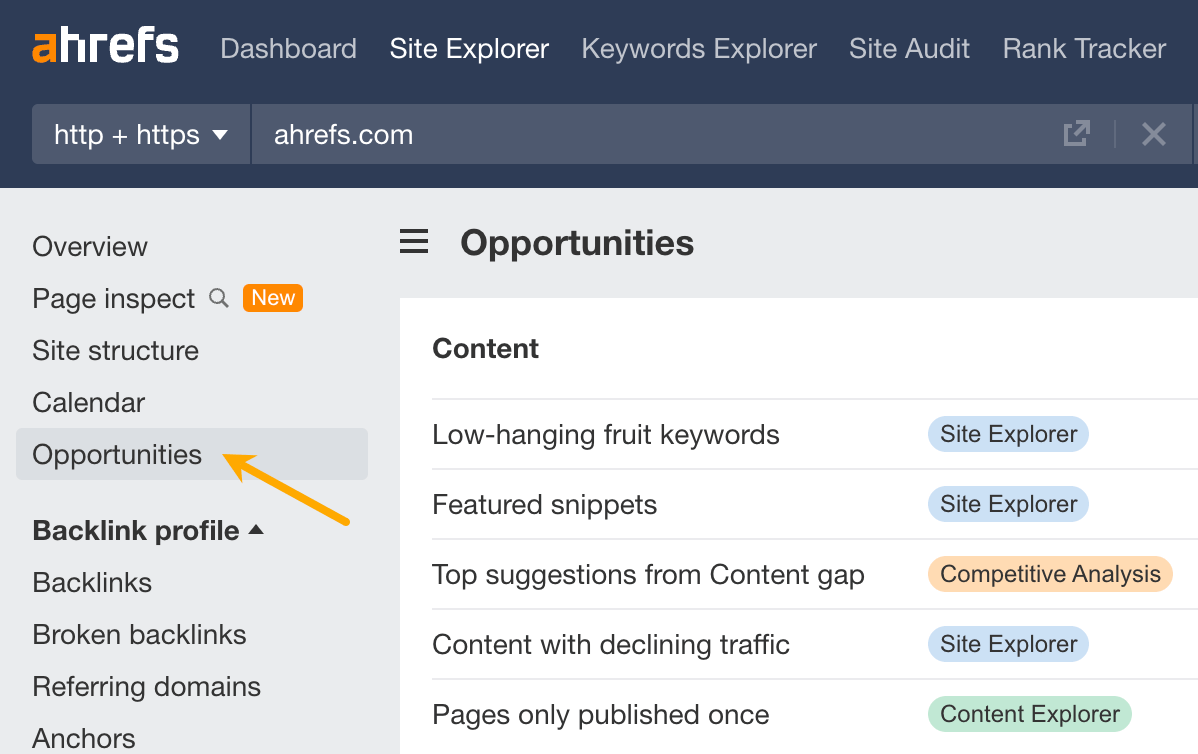 You'll find three categories of opportunities here. They reflect three key areas you need to cover to increase visibility on Google:
Content: this section is all about keyword analysis. You can see keywords that are relatively easy to improve on, keywords that your competitor ranks for but you don't, pages that have declined in traffic in the last six months, and more.
Links: focuses on link analysis. You can discover new internal links you should build, unlinked brand mentions, pages that link to your competitors but not to you, and more.
Technical: a technical SEO analysis ready to take action on. You'll discover critical SEO issues that could undermine your visibility on Google.
Pricing
Ahrefs offers quite a collection of free SEO tools. You should definitely check out Ahrefs Webmaster Tools: It uncovers all of your organic keywords and backlinks and monitors your website's SEO health for free. Plus, you can use it for all of the websites you own.
If you want to get the most out of SEO, check out our premium plans, starting from $99/mo (or $83/mo if you pay annually).