WordPress is an open-source Content Management System that is totally based on PHP and MySql which is used to create a dynamic website. Matt Mullenweg developed WordPress and Written in PHP language. WordPress is one of the most popular interfaces that allow users to customize and manage the website from its back-end content management system. It is used to organize the whole process of creating, storing, and showcasing web content in an optimal way. WordPress was initially developed as an improvement tool that enhances the regular typography of day-to-day writing.
In this article, we are going to discuss how we can go through Writing Settings in WordPress.
Writing Settings in WordPress: WordPress allows users different settings and the Writing Setting is one of them. It helps us to manage settings related to your site's content. This controls the writing experience and provides users with many options for customizing the WordPress sites. Features of Writing Setting :
Adding and editing posts, Pages, and Posts.
Remote Publishing
Post via e-mail
Update Services
Let's see the steps to go through Writing Settings in WordPress Easily and Quickly :
Step 1: First go to the WordPress login panel and try to login into the WordPress Dashboard by providing the username and password. To access the login panel You can add '/wp-login.php' at the end of your website URL.
After login into your own WordPress, you will be able to see a dashboard in a similar way to this:
Step 2: We have to search and open the Writing section. For that:
From the menu option on the left side of the WordPress page. Go to the Settings >> Writing.
After clicking on Writing, you will see a similar Page like this:
Step 3: There are many sections in the Writing Setting. Each section is briefly discussed and here are the following sections details:
Composing: Here you show publish confirmation using The Block Editor. This editor handles the Publish confirmation setting. To enable it, go to Options under the Ellipsis menu in the Editor and check "Enable Pre-publish checks".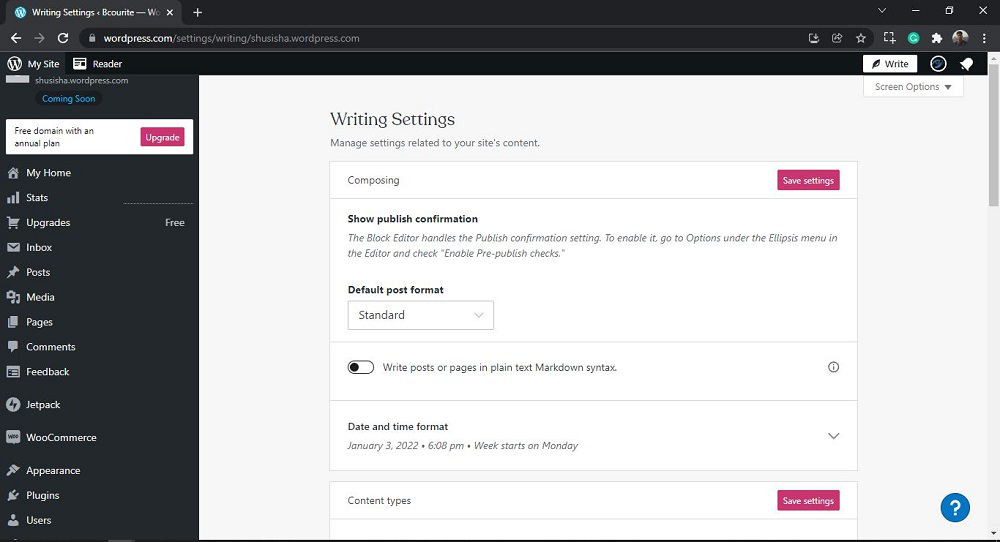 Content types:  Here you can manage Blog posts, Testimonials, and Portfolio projects.
Blog posts: It manages the number of posts to show per page.
Testimonials: Using this we can add, organize, and display testimonials. If the theme doesn't support testimonials yet, you can display them using the shortcode (testimonials).
Portfolio projects: Using this we can add, organize, and display portfolio projects. If the theme doesn't support portfolio projects yet, you can display them using the shortcode (portfolio).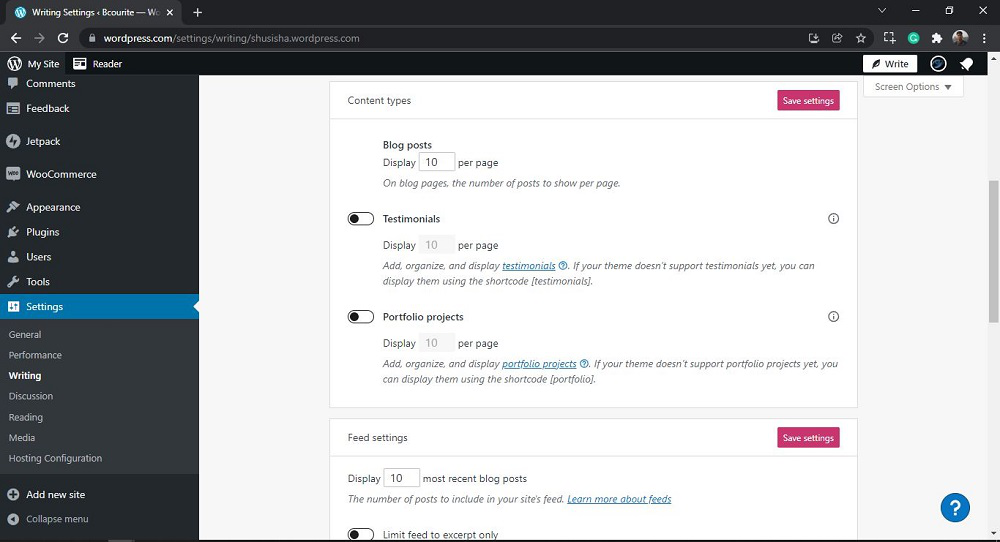 Feed settings: Here you can manage the number of posts to include in the site's feed.
Limit feed to excerpt only: Using this we can include only an excerpt of your content. It allows users to visit the site to view their posts/pages' full content.
Podcasting: This writing setting is used to set site visibility, currently it is set to Private.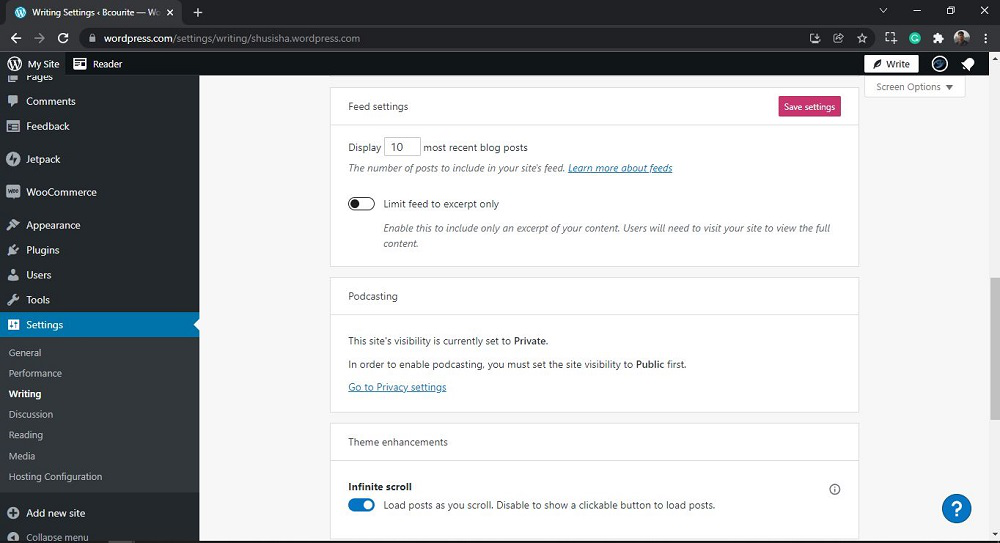 Theme enhancements:
Infinite scroll: This allows you to load posts as you scroll. In order to show a clickable button to load posts, you need to disable the button.
Press This: Press This is one of the writing settings and it allows you to copy text, images, and video from any web page and add them to a new post on your site, along with an automatic citation. This topic will be discussed with screenshots in a different article.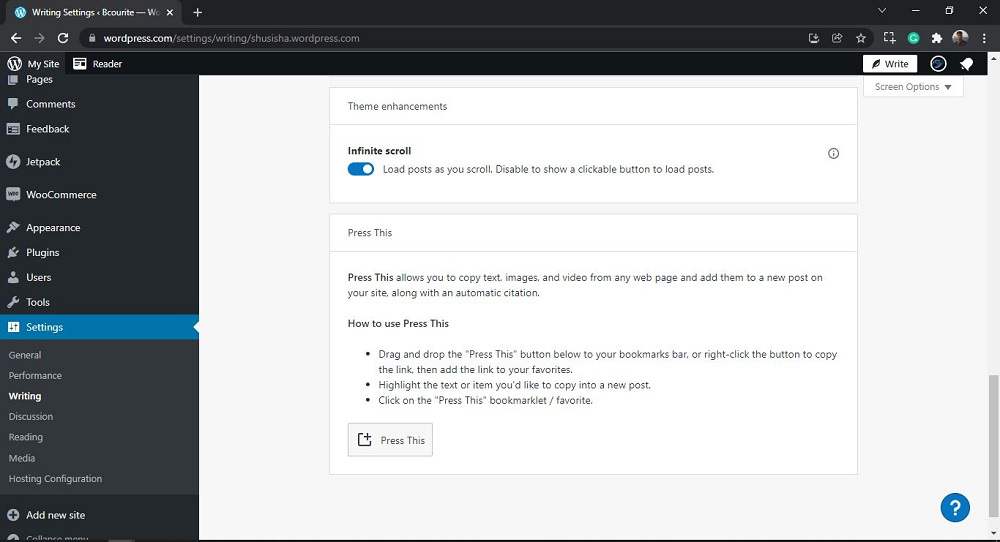 That's it, you have now successfully learned how to go through the Writing Settings in the WordPress website.