First, choose a trusted Facebook feed plugin. You may choose the best WordPress plugins (free + paid) to enhance your website's functionality.
Here, I'll use the Smash Balloon Custom Facebook Feed plugin. It has 100,000+ active installations.
Step 1: Install Facebook Feed Pro Plugin
Begin by installing the plugin on your WordPress site. After installation, locate the "Facebook Feed" option in your WordPress dashboard.
Click "Launch the Setup Wizard" within the Facebook Feed plugin.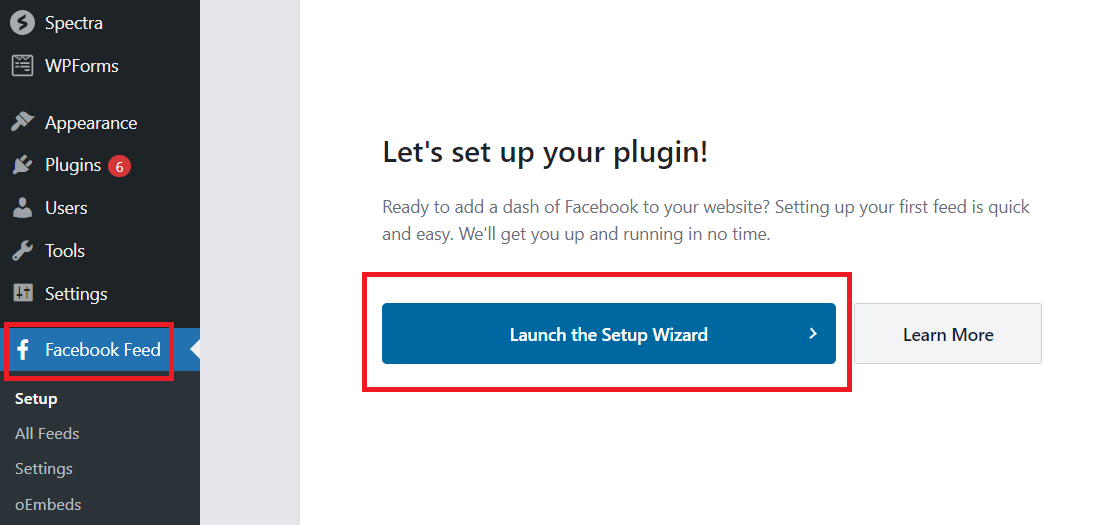 Connect your Facebook Account by clicking on the Add New button.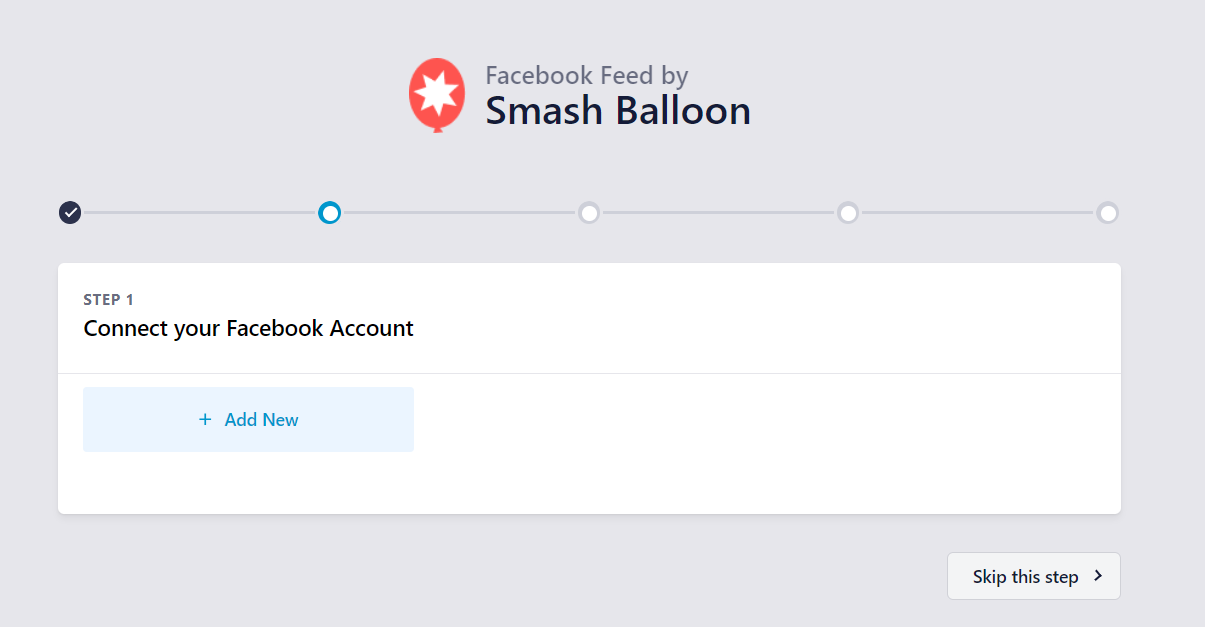 Next, choose to display a Facebook page or a group and connect the plugin to your Facebook account. If you already have an API access token, click the Add Account Manually option.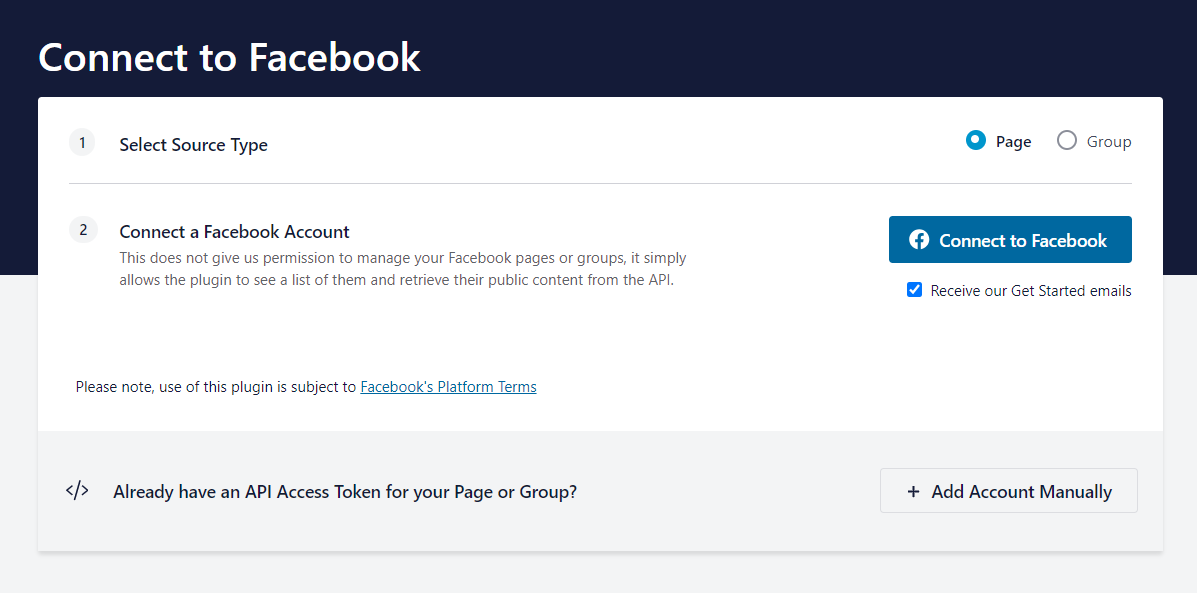 If you don't have the API access token, proceed with "Connect to Facebook."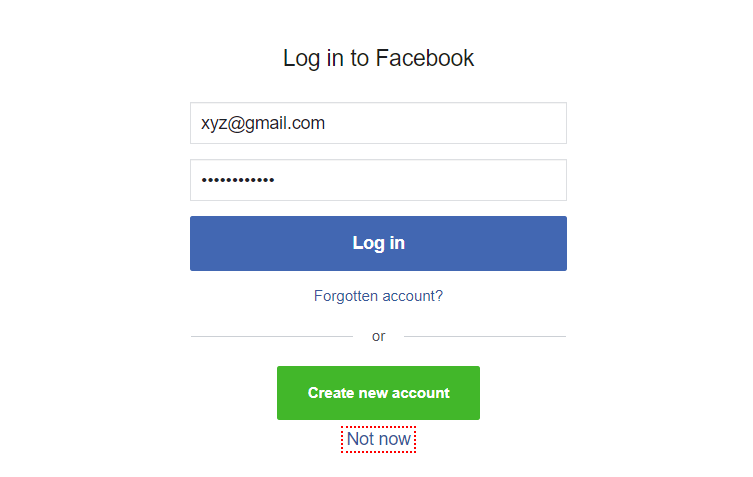 Log in to your Facebook account and allow Smash Ballon to connect by clicking Continue.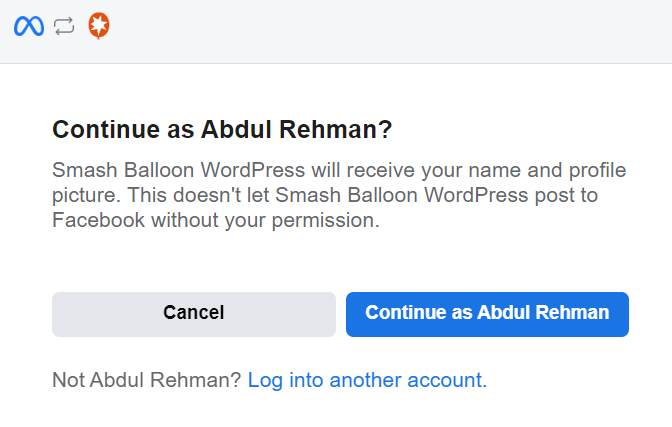 Now, choose your Facebook page.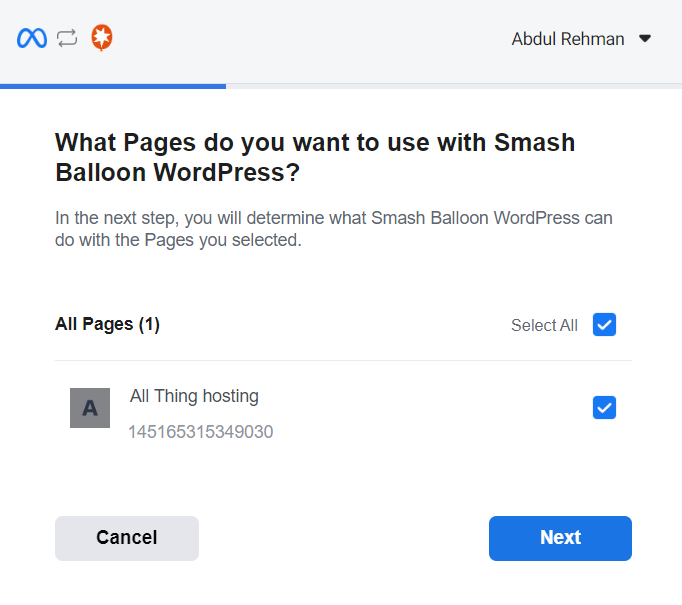 Choose what Smash Balloon WordPress is allowed to do. I'd leave all the options on and click on Done.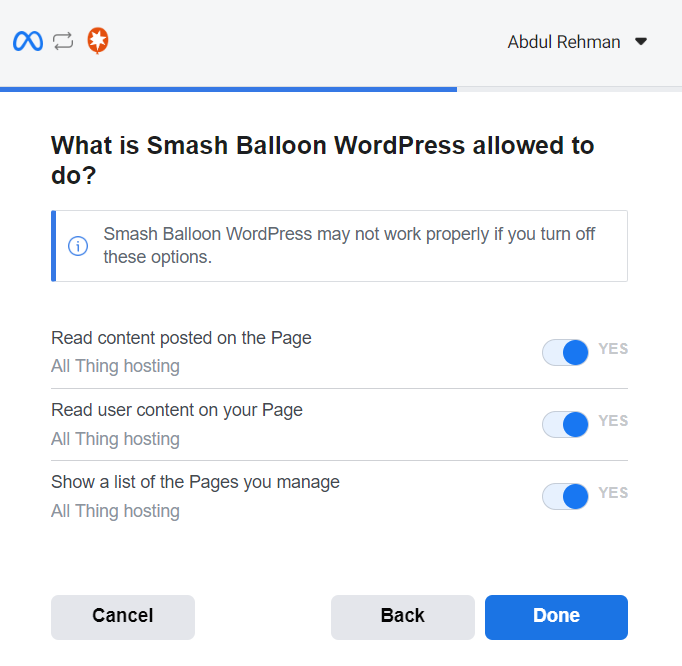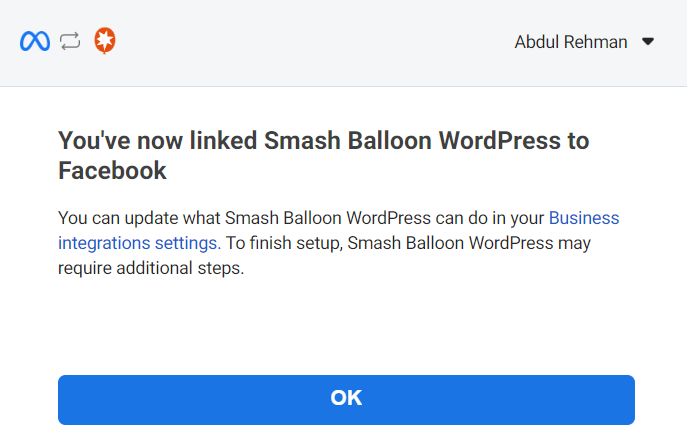 Select your Facebook page and click "Add".

At this point, the first stage of the setup is complete. To proceed, click Next.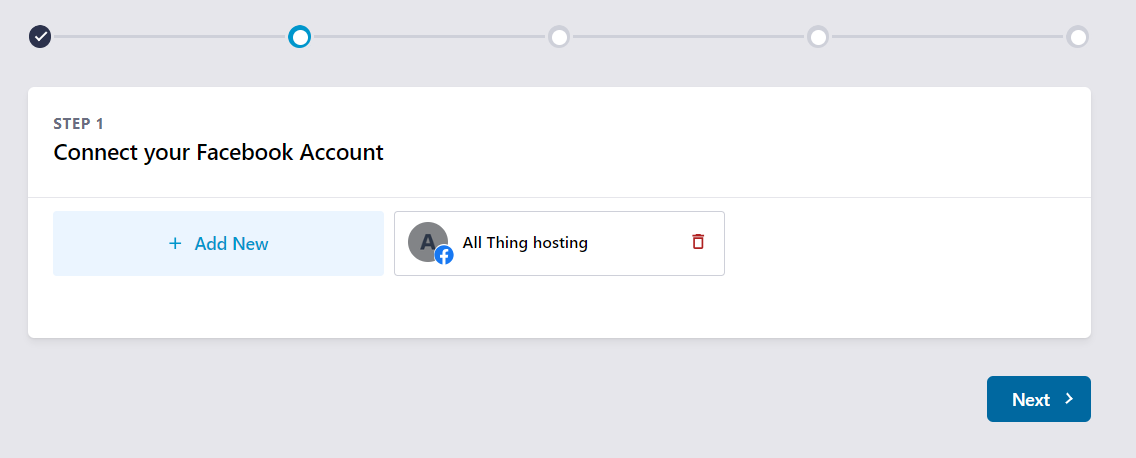 Configure additional features as desired and click "Next".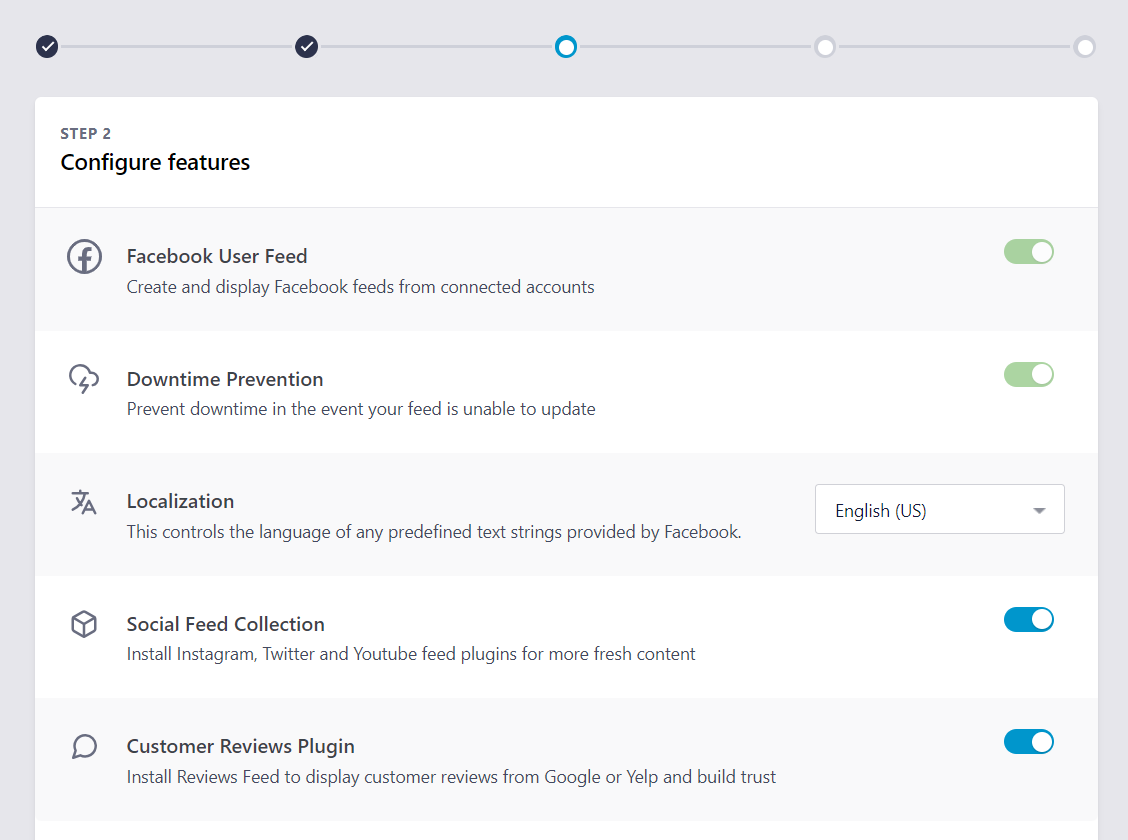 It'll ask you to install a few plugins. I simply toggled the options off and moved on.
Afterward, you should see a screen saying: "Awesome. You are all set up!". Just scroll down until you see an option to "Complete Setup Without Upgrading." Click on it.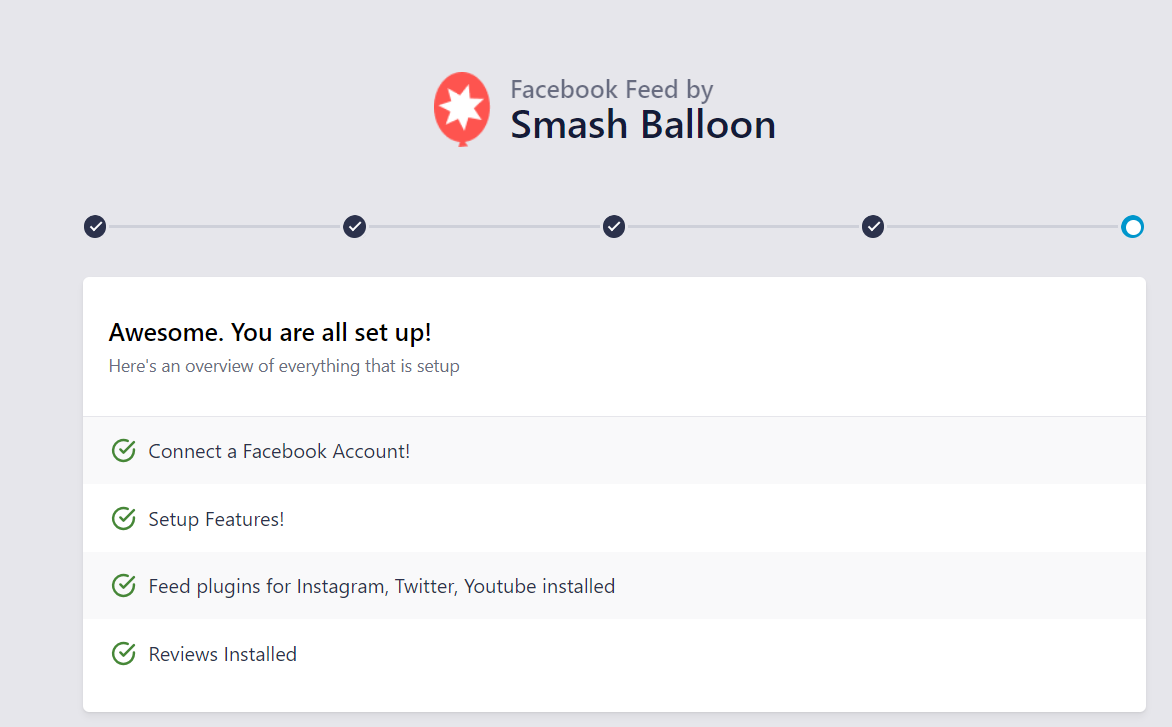 That's it! The plugin is now all set up properly. Next, you can:
Create your Feed
Customize your feed type
Embed your feed
Step 2: Create a New Facebook Feed
Now, it is time to create a new Facebook feed. To do that, follow these steps: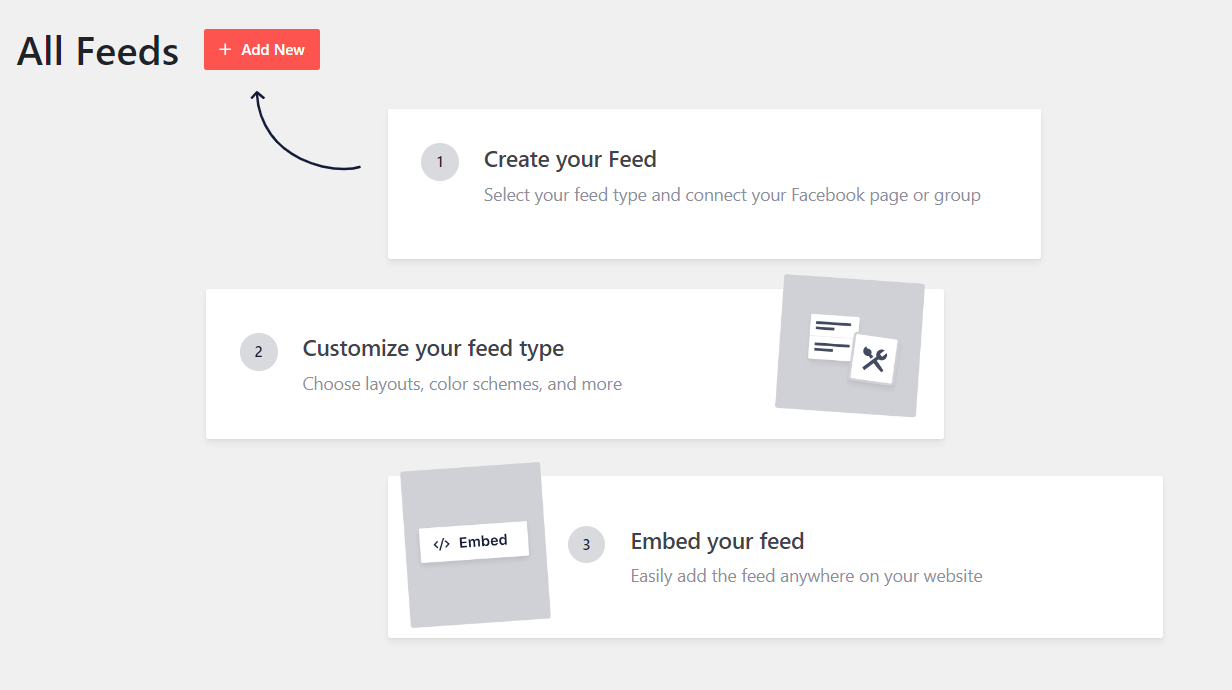 Select your desired Facebook feed  type (e.g., Timeline) and click "Next".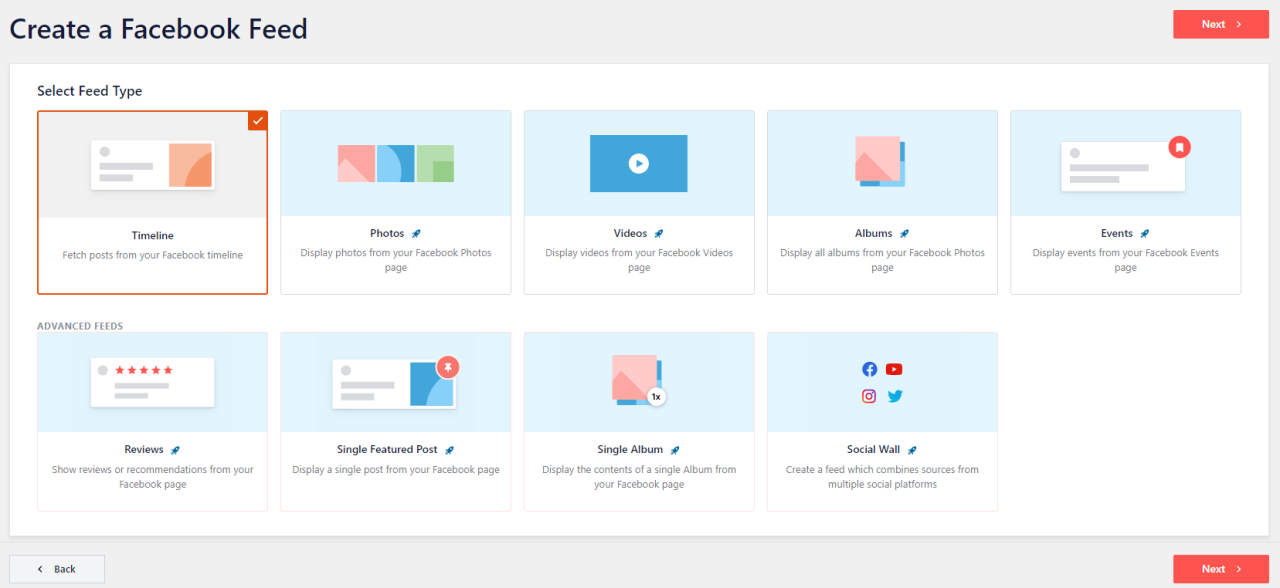 Select your Facebook page and click Next.

Step 3: Customize Your Facebook Feed
Now, it's time to personalize your feed.
Customize your feed's appearance using the settings on the left.
Click "Feed Layout" to select from 3 layout: List, Masonry, or Carousel.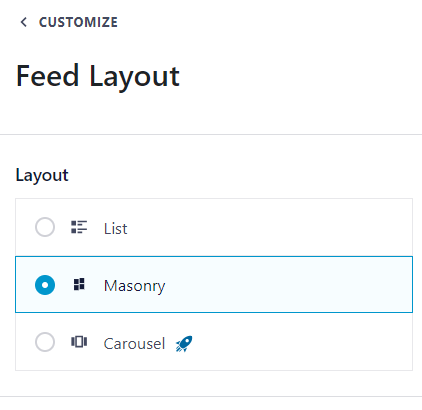 The first choice is the "List" layout, which presents your Facebook posts in a single, vertically aligned column. This provides more room for each post, making them more prominent on the page.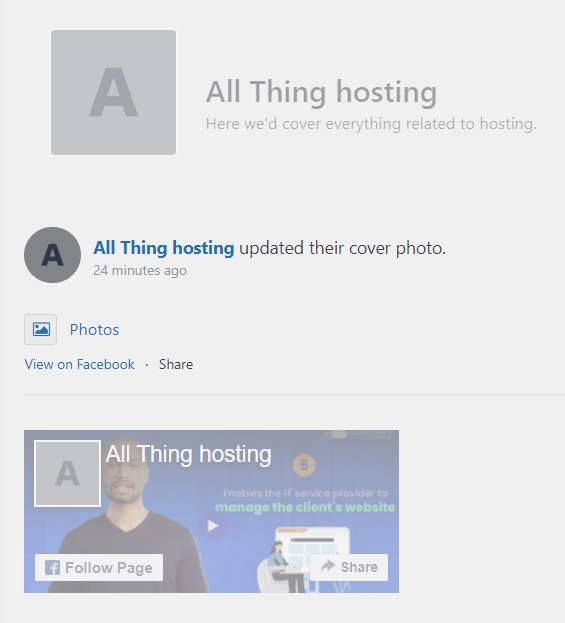 Next, you have the "Masonry" layout, which arranges your Facebook posts in multiple columns, preserving the original proportions of your posts.
If you want to give your visitors more control over how they view your Facebook posts, consider the "Carousel" layout.
Adjust the color scheme by selecting from four options:
Inherit From Theme
Light
Dark
Custom
Select your preferred color scheme for your Facebook feed and click "Save."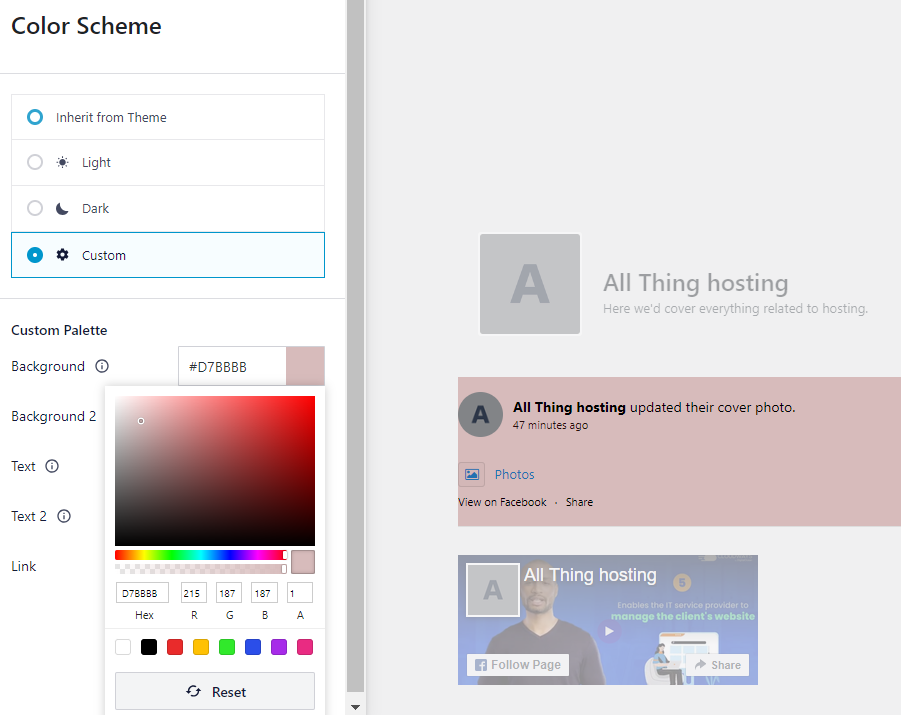 Further enhance your Facebook feed's design using other customization options. Now, you can proceed to step 4, where you will embed your Facebook feed.
Step 4: Embed Your Facebook Feed
You have several options for adding your Facebook status feed to your WordPress website, including using a block, widget, or shortcode.
Use the Facebook Feed block if you're using the block editor.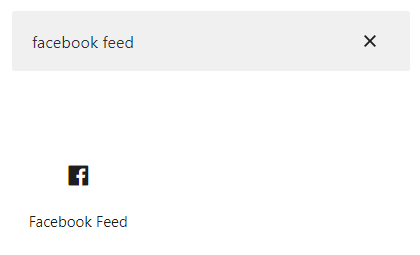 Select the desired Facebook feed.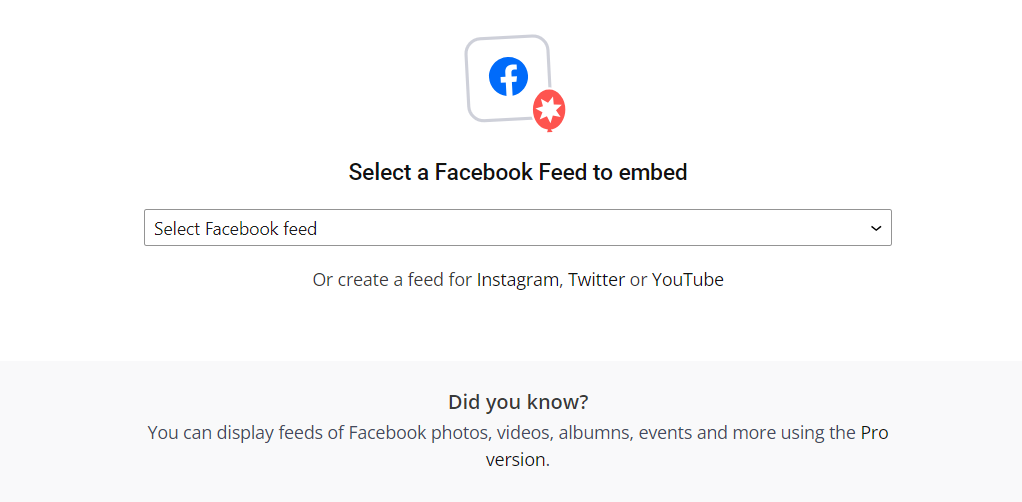 When you preview it, you should be able to see the customized feed you created earlier.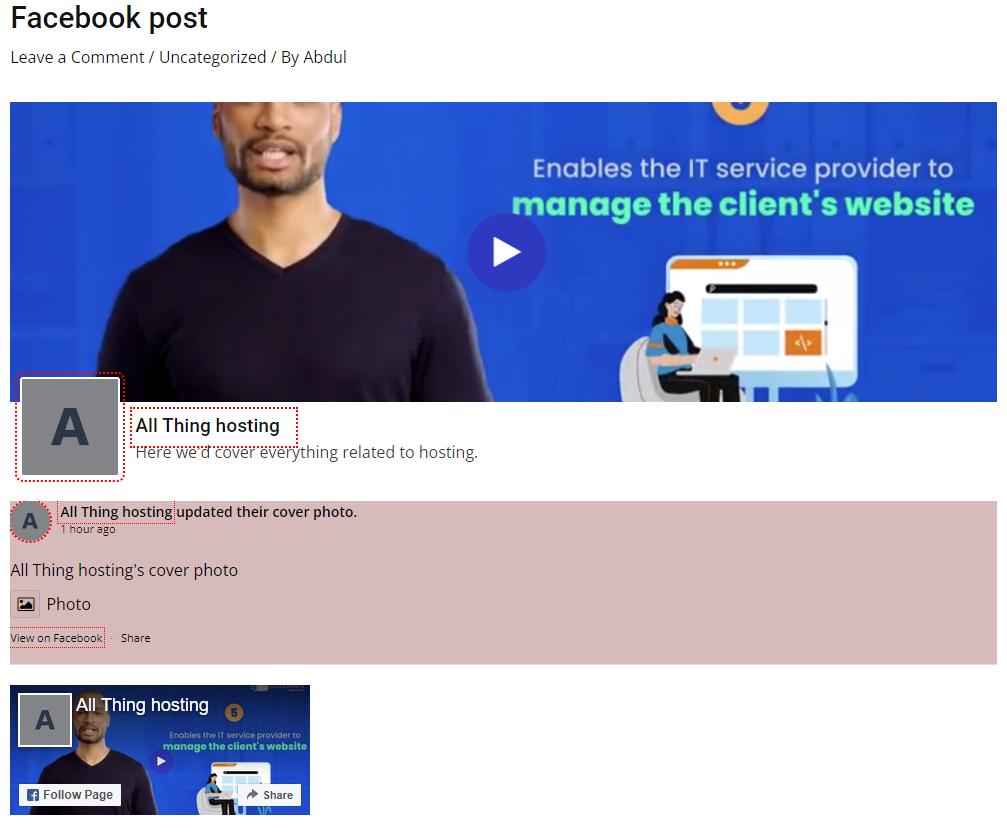 Another option is to add the feed to a widget-ready area like sidebar by going to Appearance > Widgets.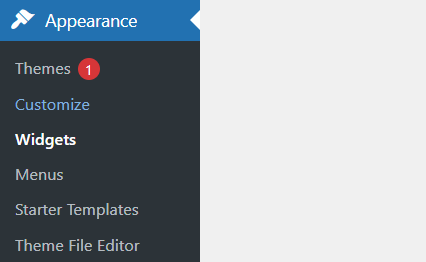 Click the blue "+" button, search for "Facebook Feed" in the search bar, and drag it to your chosen widget area.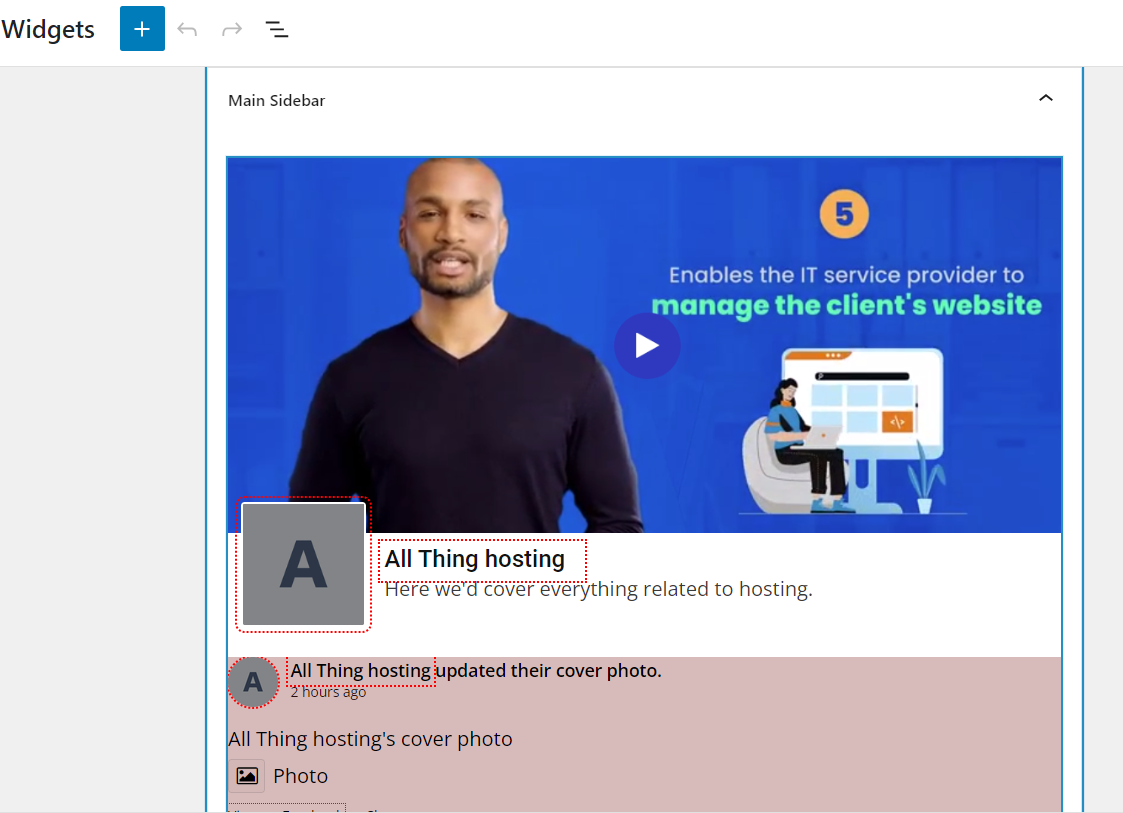 After adding the widget to the sidebar, your Facebook feed will look like something like this: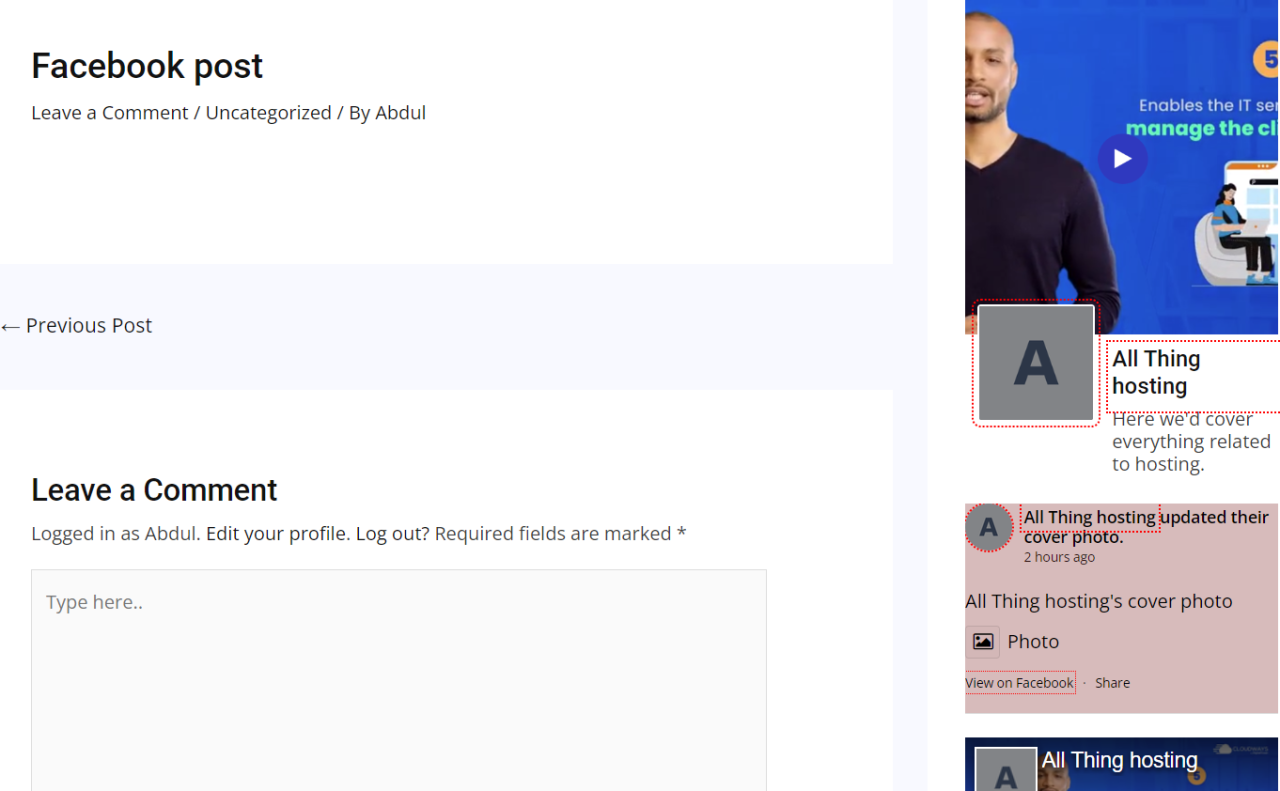 Lastly, using a shortcode, you can embed your status on any page, post, or widget-ready area.
Copy the shortcode value from Facebook Feed > All Feeds and paste it onto the desired page, post, or widget-ready area like so:
The preview will look something like this: