With all your key pages online (and perhaps your blog started as well), it's now a good moment to adjust your site's navigation and make it overall easier to consume for the visitors.
We'll focus on two elements here:
a) Menus
Menus are the primary vehicle through which visitors navigate your site, thus they're crucial when figuring out how to make a website.
Depending on your theme, you will have a couple of options to choose from regarding menu settings. Here's what you can usually do (on Hestia's example):
First, go to Appearance → Menus in your WordPress dashboard.
You'll see this default panel: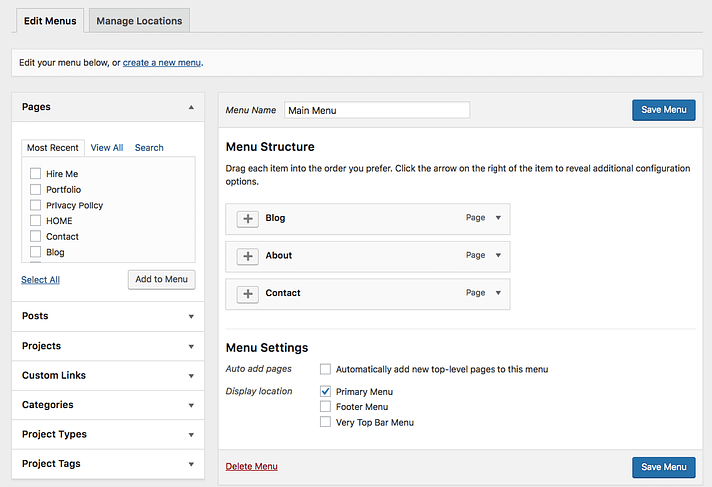 To the left, there are all the pages you can choose to add to a menu. To the right, you can see the menu structure itself and all its settings.
Let's start by selecting a couple of key pages and adding them to the menu. A good idea is to pick About, Contact, plus whatever other one or two pages you consider to be important, and add them to the menu.
The great thing about this whole panel is that you can drag and drop the menu items to reorder them.
When you're done, select the menu location at the bottom. Usually, selecting the location labeled "Primary Menu" will result in showing the menu in the top section of the website. This is probably what you want for your main menu. Click on "Save Menu" to save the settings.
💡 Note. You can create additional menus as well. Just click on the "create a new menu" link that's visible in the screenshot above. This will show you the same menu creation panel. Each menu needs to be displayed in a different location. So, for this new one, you can assign it as the "Footer Menu."
When you go to your site now, you'll see the menu in place.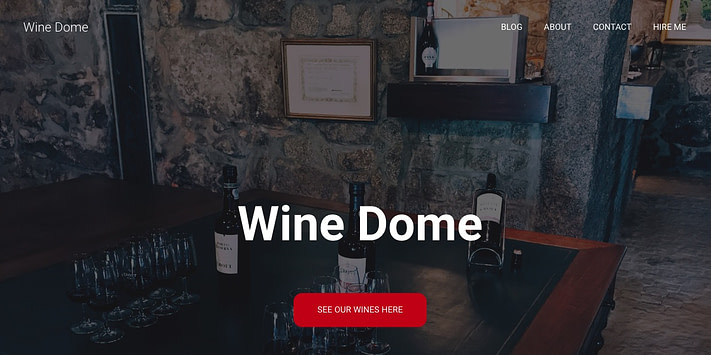 b) Widgets
Widgets are an old-school feature in WordPress. In simple terms, a widget is a small block of content that can be displayed in various places around the website.
The usual placement of those blocks is in the sidebar or the footer of the site.
To see what this might look like and to set your widgets, go to Appearance → Widgets in your WordPress dashboard. You'll get this screen: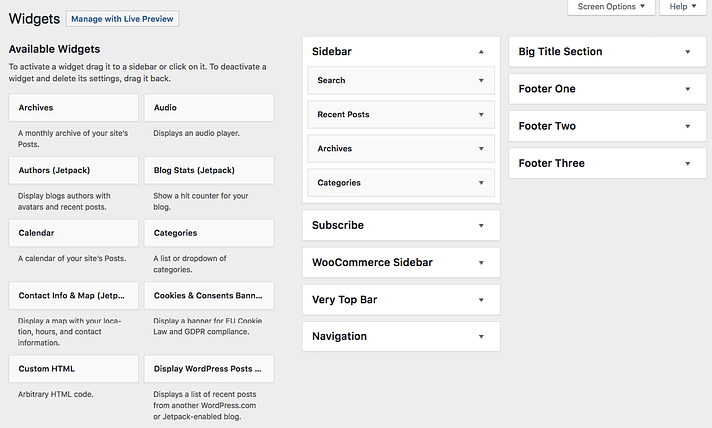 The Hestia theme offers a number of widget areas apart from the sidebar or the footer, but let's not focus on those additional placements for now.
To add any widget to a widget area, just grab it from the left-hand side and drag-and-drop it onto your chosen widget area on the right.
For instance, as you can see, on my site, I have Search, Recent Posts, Archives, and Categories in my sidebar (screenshot above). Here's what those widgets look like when I go to my About page, for example: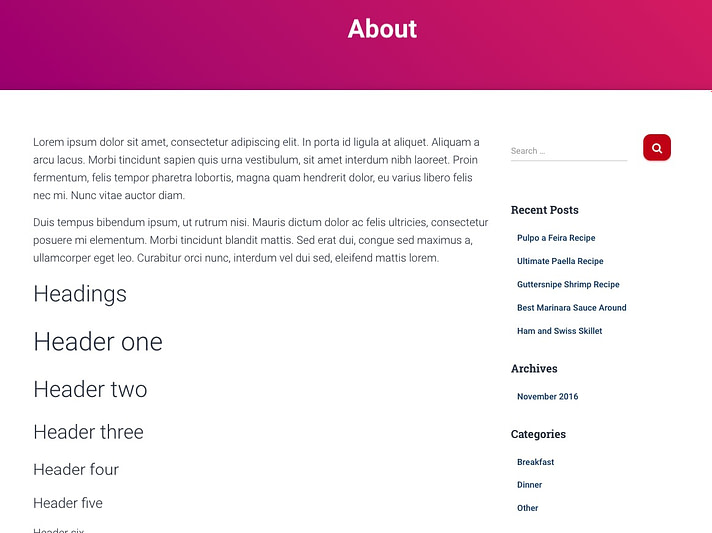 After you're done with your widgets and navigation, your site is basically ready for the world to see!