Installing WordPress is one of the easiest things to do – provided that you've signed up with the right web host! The top hosting companies, will actually handle the installation process for you, or will give you a handy one-click-install option, which takes literally a minute to go through.
Now, onto the interesting stuff. So the best part about installing WordPress is that you don't really have to do it yourself. I mean, why would you, when you can get other people to do it for you, and for free! Here's how:
As soon as you complete the sign-up process with Bluehost, you should have received an email from the Bluehost crew with some details on how to log into your customer profile and begin working on your site.
Log in to the main dashboard
You can now log in to your WordPress user panel if you go to www.YOURDOMAIN.com/wp-admin/
This is what you'll see: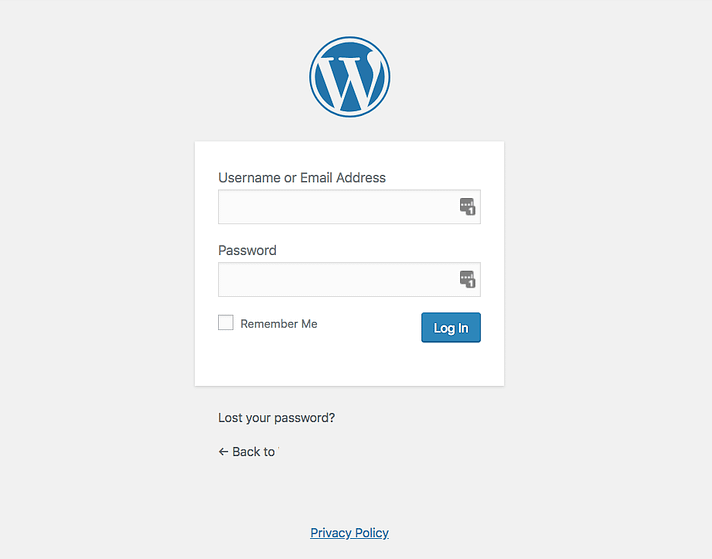 Use the access credentials that you've set up on Bluehost in the previous step (the "WordPress install screenshot" above).
After logging in successfully, you'll see the main WordPress interface in all its glory: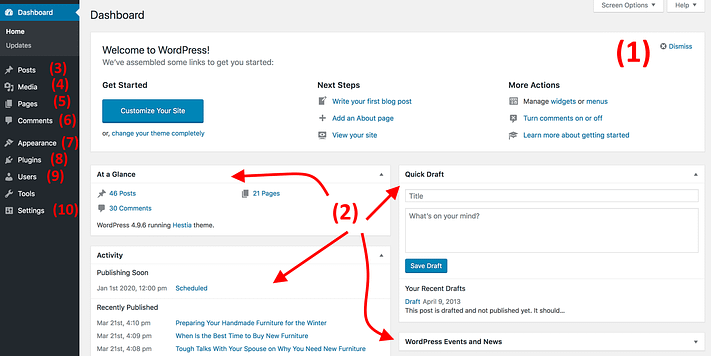 (1) Welcome message – Some of the most important areas of the admin panel listed as quick shortcuts links – these are usually your shortcuts to how to make a website.
(2) The current status of your site and what's going on with it.
(3) Posts – go here to create blog posts.
(4) Media – upload/manage images and other media files here.
(5) Pages – go here to create sub-pages.
(6) Comments – this is where you can moderate comments.
(7) Appearance – change your site's design here and/or customize how certain things are displayed on the current design.
(8) Plugins – install new plugins here.
(9) Users – manage user accounts that can access the admin panel of the website.
(10) Settings – the main settings.